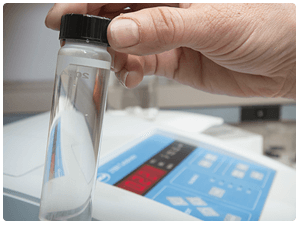 This webpage is dedicated to answering questions about private water wells in Clark County, Indiana. Here you will find information and links that will answer questions about abandonment of wells, plugging of abandoned wells, well water disinfection and recommended standards for private water wells.
Recommended Standards for Private Water Wells
Safe, potable ground water is one of our most precious natural resources. It can be contaminated and made dangerous, even totally useless for drinking, by improper well drilling and pump installation practices.
To guide homeowners and well drillers in the construction of safe, usable wells, the Indiana State Department of Health offers standards for construction of wells and installation of pumps and appurtenances. Whenever a well is opened for repair, the work and materials used should also comply with these standards.
Dewatering wells, irrigation wells, heating and cooling supply and return wells, temporary service wells, construction water wells, process wells, and other structures for withdrawing ground water or lowering of a water table, regardless of location, length of intended service, or original use or intent, should be constructed in accordance with these standards. Where possible, existing wells and water systems should be upgraded to meet these standards. Take a look at the Indiana State Department of Health Recommended Standards for Private Water Wells
Disinfection of Wells and Water Sources
The Indiana State Department of Health has established guidelines for testing and disinfecting of wells, Click here to download the Private Water Well Testing Pamphlet.
Abandonment of Wells
The Indiana Department of Natural Resources has rules and regulations regarding the drilling and abandonment of existing wells. Click here for more information Water Availability/Rights
Image Attribution: By U.S. Department of Agriculture Lance Cheung/Photographer/USDA photo by Lance Cheung - 20150409-RD-LSC-0080, Public Domain, https://commons.wikimedia.org/w/index.php?curid=64976496